The primary reason for sweeping chimneys and appliance servicing is the prevention of chimney and house fires. Also to reduce the risk of carbon monoxide poisoning from blocked or dirty appliances, flue ways and chimneys.
Chimney sweeping is important, clean chimneys are safer and help our environment by assisting the complete combustion of the fuel, which then reduces emissions into the environment.
Using 1-2-C Master Chimney Sweep will eliminate the build up of soot from coal, wood, oil and gas fired appliances and maintain your chimney safely. Clear obstructions such as birds and animal nests, leaves and building debris, even cobwebs. Our trained staff provide valuable advice on operating your appliance safely, efficiently and on any remedial work that may be necessary.
How often your chimney and appliance should be swept and serviced according to the fuel you use:
Smokeless fuel at least once per year
Bituminous coal at least twice per year
Wood quarterly when in use
Oil once per year
Gas once per year
Chimney Sweeping Service:
Visual inspection of your flue
The Fireplace area will be covered with protective dust sheets that we provide
Your Chimney will be swept in accordance with the guild of master chimney sweeps code of practice and the industry standard.
A draught test will be carried out using a smoke pellet
A Guild of master chimney sweep sweeping and servicing certificate will be issued
This service takes approximately 30 min
Price from £75.00 incl. VAT
Solid fuel appliance, Servicing and Repairs
Annual Service:
Visual inspection of your appliance
Your appliance will be service and cleaned to manufactures instructions
A draught test will be carried out using a digital draught tester
The appliance and installation will be checked for safety and complains with building regulations Doc. J 2011
A maintenance service can only be carried out jointly with a sweeping appointment
This service takes approximately 15 min
Price from £25.00 incl. VAT
We also carry out stove and cooker repairs and sourcing for parts for all manufacturers.
Bird nest removal
We have specialist tools to remove bird and squirrel nests of any sort from any chimney
All chimneys are checked after the work has been carried out with a CCTV chimney camera, to be sure there are no dangerous debris left inside the flue that can cause any problems on a later date.
Price from £150.00 incl. VAT

(The Master Chimney Sweep shall have the right to refuse work on arrival at premises if the work involved is for any reason unsafe or dangerous to perform (Health and Safety at work Act 1974) on producing evidence of defect in writing with, if possible, a remedy for the situation. In these circumstances the Master Chimney Sweep shall be eligible for their full fee.)
We also carry out rotary power sweeping to remove tar and bird nests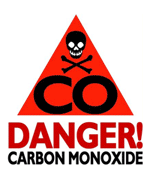 Carbon monoxide is a silent killer with no smell or evidence it can send you into a deep sleep from which you will never awake. Carbon monoxide (CO) can be a result of faulty appliance or a blocked chimney
Tip!
If you haven't got a carbon monoxide detector alarm in your room with your appliance installed. Why don't you ask us to supply and install a Hetas approved carbon monoxide detector alarm on our next visit for a small additional fee!