The correct flue termination is essential to ensure that your appliance and flues are able to work efficiently and safely. All appliances and flues need to be able to "breath". There are numerous types and designs of chimney pots and cowls that we offer.
If you have a issue with down draft, birds or moisture entering your chimney. Why don't you ask our Master chimney sweep to supply and install the right terminal to suit your needs on our next visit!
Below are examples of our most common pots and terminals for gas, oil and solid fuel appliances and chimneys that we supply and fit.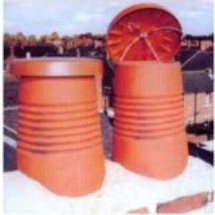 Energy saving tip!
When a chimney is not in use hot air still continues to flow up the chimney approximately 5m2/hour. This does affect your heating bill dramatically; further more rain water, birds and squirrels can still enter the top, causing even more problems. That is why we recommend to cap all unused chimneys as soon as possible with a appropriate C-cap. The C-cap will minimize your heat loss whilst still allowing the chimney to breath and remain dry.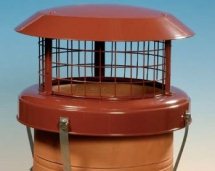 The ECO Cowl is an anti down draught terminal. It is made of stainless steel and is powder coated in terracotta colour.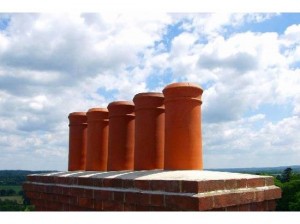 We also offer a large range of chimney pots supplied and fitted.